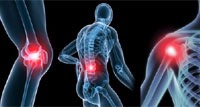 Are you in pain and don't know where to turn?  
Do you have a condition not improving with medication?
Are you looking for a physician who has natural and holistic approach  to pain and healing?
Welcome!  You have come to the right place.
What can we help?
Dr. McReynolds successfully treats a variety of conditions which commonly include: back and neck pain, digestive problems such as IBS, pregnancy related back pain, sports injuries, chronic sinusitis, concussions/TBI, babies with colic/reflux and much more.
A unique way of evaluating patients.
In addition to using traditional evaluation methods such as lab and x-ray/MRI, Dr. McReynolds uses additional methods of evaluation, that aren't detected through traditional testing:  1)refined palpation of the tissues with osteopathic evaluation uncovers causes of pain and somatic dysfunction.  2)Quantum Reflex Analysis, QRA, uses the principles of kinesiology testing, ayurvedic medicine and chinese medicine, gives additional information about the body.  
Looking for the root cause.  
Dr.  McReynolds will look for the root cause of your disease and empower you with the knowledge to help heal yourself.  Treatments are individualized and may include osteopathic manipulation, biopuncture, prolotherapy, neural prolotherapy, laser, exercise and stretching programs, nutrition and supplement recommendations, cleansing, or even meditations.
Watch "What is Osteopathy", featuring Dr. Ken Lossing, president of the American Academy of Osteopathy, to learn more about D.O.'s and the benefits of osteopathic manipulation.